Tails & Tales at the Library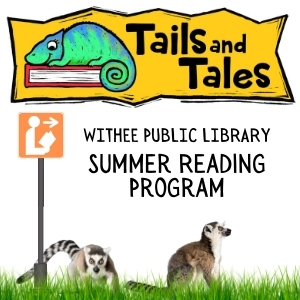 Reading Program
Pick up a reading log and stickers.
Put a sticker on the reading log for every book you read.
Read ten books, bring your sheet in to receive a free book!
Read 50 books and receie 3 books
Adopt a Pet
We have a variety of stuffed animals in need of a home. You will recive an adoption certificate at the checkout.
Count the Bananas
Win a prize by counting the scattered bananas in the Kids Room.
Harry Potter Facemasks
Check out Harry Potter movies or books and get a mask!
Building Hours 
Mon, Tues, Thurs, & Fri
Open from 10am-4:30pm
Saturday 10am-1:30pm
Sunday Closed