Holiday Craft Kit Available Now
Call the Withee Library to reserve your free December Activity Kit! Each one contains:
supplies to build an ornament, snowman, gingerbread house
activity book with games and puzzles
a sack of candy
some surprises
And when you're done building your creature, either send us a picture or swing by with your creation and allow us to take a photo for our Facebook page, and you can dig through our special prizes!
Withee Library Is Open:
Tues 2-4pm, Thurs 2-4pm, Sat 10AM-1:30PM.
Curbside Pick Ups are Tues & Thurs from 12-4PM and Sat 10-1:30pm.
Computer Use is available during open hours. Limited to 3 users. Call ahead to schedule your use!
Face coverings are required.
Temperature will be taken upon entry.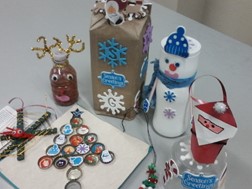 Other Activities
Smokey Bear Activity Sheet
Pick up our Smokey the Bear activity sheet or do it yourself robotic hand kit!
Harry Potter Facemaks
Given to any visitors checking out Harry Potter movies or books.
Cutout Puppet Kits
Pick up our new cutout puppet kits featuring Smokey the Bear, Superheroes, or Robots.
Cut and paste your choice of faces.
Building Hours (with capacity restrictions)
Tuesday 2-4pm
Thursday 2-4pm
Saturday 10-1:30pm
Curbside Hours
Saturday 10-1:30pm
Tuesday 12-4pm
Thursday 12-4pm
Order your pickup by